If you're a marketer or business owner, you've likely been told that you should be using Search Engine Optimization (SEO) for your company website. SEO could make a huge impact on your company's most important target and goals, like increasing quality leads and sales.
You've no doubt come across SEO before, but did you hear about AI-Powered SEO? The proven result from NexODN would prove that artificial intelligence could help individual companies do SEO better, faster, and at scale!
Today, NexODN is going to astonish you with some solid results to back the statement above. 
Customer Background
There is a client who is the top-ranked luxury hardwood flooring provider. Before they approach NexODN, they spend around RM100K for 3 months in Search Engine Marketing. With the top-graded quality woods did not bring them quality leads and even facing high bounce rate despite spending a significant amount on SEM. Fortunately, they found NexODN, the World 1st AI SEO Machine Learning PaaS.
NexODN advises the client to divert and focus more on NexODN AI SEO Machine Learning with their existing funds for SEM. Thus, the client allocated a budget of RM30K in NexODN. As expected, the client's marketing efficiency by lowering the costs and the surge of quality leads up to 15 times. From here, the client's business has gained 2x growth as well.

Now, we're going to share you some proven results from NexODN!
1. Ranked keyword "hardwood flooring Malaysia" to the top of Google search result




2. Ranked keyword "hardwood flooring supplier" to the top of Google search result




3. Ranked keyword "timber flooring supplier" to the top of Google search result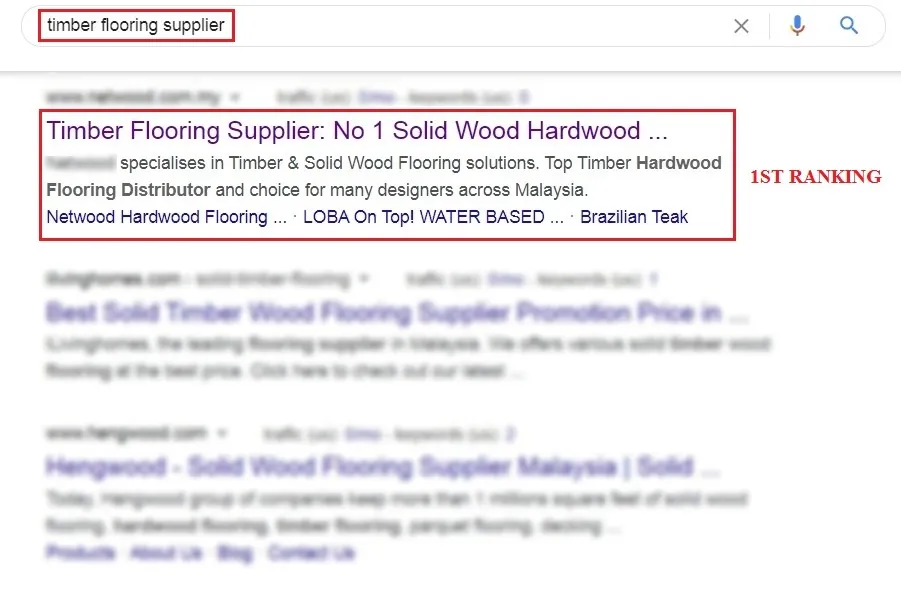 The result won't lie. Compare to the previous budget, RM100K that client allocated in SEM, the NexODN AI SEO Machine Learning PaaS was helping the client save up to 70% of marketing fund to generate 15X of quality leads.
Choose NexODN as Your Trusted SEO Partner
Are you still spending plenty of marketing fund to generate zero lead and enquiry? If yes, you should consider to look into AI-Powered SEO to help you generate the quality leads and make your business growth! 
Still not convinced that SEO Malaysia is right for you? We offer money back guaranteed* AI-Powered SEO services, so if you don't see results within 1 month, we'll give your money back.  If you were waiting for the perfect time to seize this opportunity, the time is now! Enter the enquiry form below to get a free SEO services consultation!
*T&C apply
Get Free Consultation Now !
Request Demo from NexODN to try the tools before buying!
Check out NexODN's pricing page to see our SEO Malaysia plans and options.